Online orders, individuals and professionals,
are suspended for the moment.
Find us in our partner stores or do not hesitate to contact us for more information.
Organic raspberry sorbet pressed in our workshops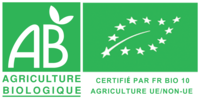 ORGANIC RASPBERRY 51% fruit pressed in our workshops
An incomparable pleasure in the mouth thanks to this very fragrant organic raspberry and a fruit content of 51%.
Raspberry * 51%, water, cane sugar *, dehydrated glucose syrup *, stabilizers * (carob bean flour *, pectin, vegetable proteins). * Products from organic farming.
Nutritional values per 100 g
Energy 504kJ / 119kcal
Fat 0g including saturated fatty acids 0g
Carbohydrates 26g including sugars 23g
Protein 0.8g
Salt 0, 02g.
Produit fabriqué dans un atelier qui utilise : lait et produits laitiers, œufs, fruits à coque, céréales contenant du gluten, soja.