Originally, the passion for fruit
In 1989, Jean-François Gonfard became passionate about sea buckthorn , a little orange berry then little known that grows around his home, at an altitude of more than 1000 meters, in the heart of the park national des Ecrins in the Hautes-Alpes.


After several years of testing and research, he selects two varieties that he cultivates himself in the largest respect for the environment, and harvest at the end of summer, when their vitamin content is at its maximum.


In 1997, he obtained organic certification for its sea buckthorn crops. He then created the Altiflore brand, the first product of which was pure sea buckthorn juice, which has become emblematic!


Driven by a permanent desire to innovate, Jean-François imagines then many sea buckthorn products. This is how Altiflore began to produce fruit juices, nectars, jams, fruit jellies ... and its first organic sea buckthorn sorbets in 2001.


Gradually, Altiflore is making ice cream its specialty and expanding its ranges with new delicious flavors inspired by nature , some of which are surprising like Chartreuse and Genépi.
Sea buckthorn, a thorny shrub with its small orange berries, has long been neglected because it often grows in disadvantaged and infertile areas: dunes, rock gardens, mountains ... Its characteristics make it a plant of choice to fight against soil erosion and desertification. Little by little, sea buckthorn is being rediscovered for its exceptional virtues for health.


Thanks to its very high content of antioxidants, it has preventive effects during bouts of fatigue or flu-like periods. Its vitamin C concentration is remarkable: 20 times more than orange! It also has a multitude of vitamins (A, E, F) and trace elements (iron, manganese, phosphorus) . Its oil is also extremely rich in omega 3 and 6 and has recognized anti-inflammatory capacities.


Beyond the control of the entire sea buckthorn sector , Altiflore's know-how lies in the production of juice. While other manufacturers squeeze the branches, leaves and berries together, Altiflore has developed exclusive machines for separating the berries to extract a pure juice of excellence.
Guided by the love of our mountains
Our workshop is located in Chabottes, a small town in the Hautes-Alpes nestled in the heart of the Champsaur valley and the Ecrins national park, at an altitude of over 1000 meters.


This location is a great opportunity, both for our team who are delighted to live and work in this magnificent, very sunny region and for the quality of our sorbets and fruit juices which are thus made from untreated mountain water.


It is also a great responsibility for us to preserve the nature that surrounds us. We are therefore doing everything we can to ensure that our premises integrate as well as possible with the environment, to reduce our energy consumption and waste and to promote local heritage.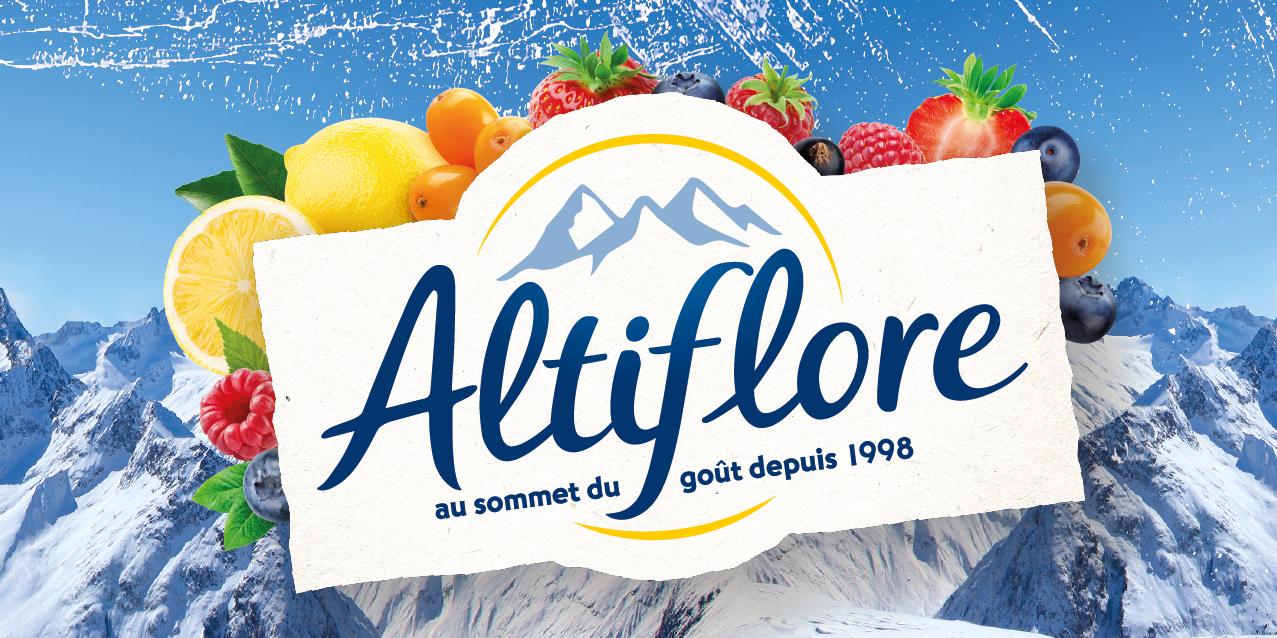 Altiflore is renewed! Gradually before the summer, new packaging will arrive on the shelves with:


A new logo that preserves our identity: the mountain, the sun and a handwritten typography in reference to artisanal production. The sun also evokes sea buckthorn berry (our DNA) and a scoop of ice cream


A new slogan "at the peak of taste since 1998" which highlights both our know-how and our history


More consistency between the different ranges and better highlighted product advantages


The "Recipe developed by our Meilleur Ouvrier de France" sticker, which lets everyone know


Mentions concerning the recyclability of our packaging

Do you like it?