FREE CHRONOFRESH DELIVERY FROM 60€ OF PURCHASE in metropolitan France
Separate shipments for ice cream (frozen) and fruit juice (fresh)
Organic artisanal drink with Red Fruits (Strawberry, Raspberry, Blueberry)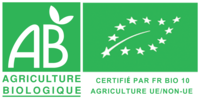 RED FRUITS Strawberry, Raspberry, Blueberry
Made from natural organic ingredients, without coloring or preservatives, this Red Fruit drink (Strawberry, Raspberry, Blueberry) is delicious and delicious. After opening, keep cold and consume within 24 hours. Natural product to shake before use.
Water, fruit puree * 10%, strawberry * 13.5%, raspberry * 12%, blueberry * 8%, sugar *, lemon *. * Products from organic farming.
Nutritional values per 100 g
Energy 179kJ / 42kcal
Fat 0g of which saturated fatty acids 0g
Carbohydrates 9,1g of which sugars 8,7g
Proteins 0g
Salt 0g.